How to Install Tableau Desktop and kick-start your data analyst career. You will want to download Tableau Desktop before trying this blog.
Installing Tableau Desktop is easy!
Here's a quick tutorial for installing Tableau Desktop on a Windows computer.
Click the file to begin.
Agree to the terms.

Install Tableau Desktop Step: Left click the checkbox to agree to the license agreement, then click install.

Click install, wait for the installation to finish, and this will only take a few minutes.

Install Tableau Desktop: Progress bar showing Microsoft Visual C++ 2010 x64 Redistributable being installed.

Type in registration info, first name, last name, email, organization, and the geographic information.
Already have a key? Click 'Activate Tableau' if you already have your desktop key.
Type your Tableau Desktop Key 'TDXX-XXXX-XXXX-XXXX'
You're done!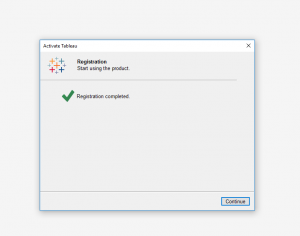 Is the Tableau Desktop Installation Completed?
If you've just completed installing Tableau Desktop or just looking to learn more. Feel free to follow along on our other blog posts. Thanks!
We offer advanced content on the Tableau Community too.
Like; How to write Fast Calculations in Tableau Desktop, How to count wins in Tableau desktop.
We offer fun community challenges. Solutions to many to many using basic SQL.
Some call it a solution to dynamic parameters – which is the most requested product feature!
Also, we spend a good deal of time offering product feedback. We really know the product and love helping the community forum with all kinds of challenging use cases.
https://platform.linkedin.com/badges/js/profile.js